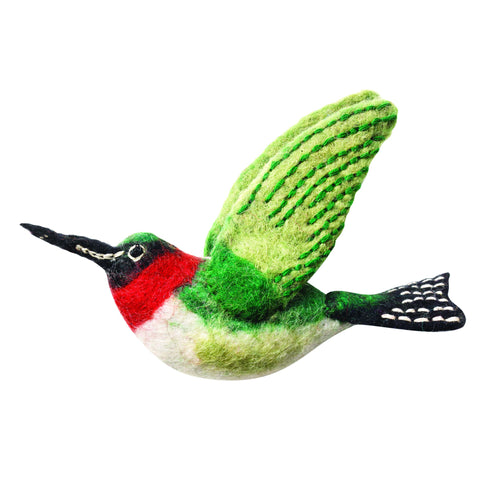 WILD WOOLIES FELTED WOOL ORNAMENT Ruby Throated Hummingbird
$ 19.95
This product is unavailable
The Hummingbird is one cute customer, and an amazing animal as well! These tiny wonders are able to flap their wings anywhere from 12-80 times per second. They use their unique hovering ability and long beaks to drink the nectar of flowers. A favorite for almost every bird lover, these little guys can live up to a decade and have been found in the fossil record up to 30 million years ago!
Exceptional felting workmanship makes our highly representational backyard bird ornaments something very special. Educational, decorative and entertaining for birding enthusiasts as well as everyday admirers of nature's most amazing creatures... birds!
Lovingly soft to the touch because they are made with fine natural merino wool. Each bird exhibits the personality of the animal as well as the skilled touch of the artisans who enjoy working in a fair trade production center. The wonderful hand-felted details bring a smile to everyone's face.
Each bird has a string loop and attractive info card with a unique barcode label that includes the name of the bird. Handmade felt components are created and assembled by skilled artisans working in a fair trade production center in Kathmandu, Nepal.
Artisans use 100% natural wool and non-toxic, azo-free dyes. Wool scraps are recycled into new products.
Size: 5" l

Recommended Age: 12+